CITIZENS DELIBERATIONS FOR BETTER DECISIONS
Missions Publiques advocates for the use of citizens' dialogues, which allow people from all walks of life to talk together and form visions, based on their sharing of experiences and knowledge. This scientific method is backed by a vast amount of research ranging from political science to sociology, from neuroscience to psychology and from communication to philosophy.
Deliberation groups deliver common goal-oriented opinions, suffer less polarization and have a much lower level of tension than other channels of opinion gathering.
Citizens' dialogues provide quantitative and deliberative data reports on a local, national and international level.
They articulate the needs and visions of citizens on different levels, and provide new, smart insights on public preferences. They provide added value for all stakeholders as they are based on the life experiences and knowledge of the citizens, and give a deeper and argumentative understanding of the desirable future of mobility.
Insights from the Citizens' Dialogues are cross-sectional: they cover several public policy fields. Cities are engaging in this process because they hope to integrate the results into their smart city and technology strategies, as well as their mobility strategies.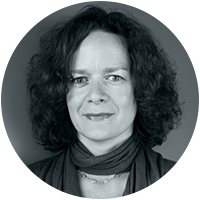 "We are supporting the process as it allows us to get true insight into citizens' current perceptions of driverless mobility issues, but also their future expectations."
– Scheherazade Zekri, Director New Mobility Services, KEOLIS
You join a group of strategic partners (local and national authorities, networks, private and public partners, etc.) who frame the dialogues and prepare the impact strategy.

You benefit from a protocol that was co-designed with high-level deliberation and mobility experts and that was already tested in several cities around the world. With our support, you also design your local session. This specific session engages participants from your city on a territorial challenge of your choice.

Training
Before the face-to-face dialogues, we train your local team – head facilitator and data reporters
Citizens' dialogue
A hundred diverse citizens selected from your territory join tables where they are met by facilitators. Together, they debate in a friendly atmosphere for a whole day
Observation
Invite your local and national media and your transportation ecosystem to listen to the dialogues, and observe the dynamic of the deliberation day (experts, local authorities, academics, etc.)

Analysis
We analyse the participants' answers and arguments, identifying with you the lessons learned and how they enrich your long-term strategy and your short and medium term action plan
Dissemination
Present your experience as a local partner together with us at high-class events all around the world. We will debate the results and lessons learned, locally and globally
Reflection
We re-evaluate the process together. This Citizens' Dialogues is an iterative process: it follows the evolutions of society and technology
9 reasons to become a partner

I am engaging a mid-term strategy for radical change in the mobility offer and demand, with vision for zero carbon, or strong emissions reductions, and need to start the conversation with a long-term vision with the citizens.

In the frame of my smart city strategy, I want to engage the dialogue with citizens on Artificial Intelligence deployment; mobility is a way to talk about it in a very pragmatic and understandable way.

I want to engage dialogue with industry and research (for a public partner) and with public authorities (for an industry partner) and want to focus this dialogue and the following action on the need of the citizens, which is the main driver for public action.

I intend to launch experimentations and would like to engage the "non" unusual suspects in the process of experimentation design.

I want to improve my current mobility services and need to identify the willingness to change from their public.

I want to understand what is specific in the local perception.

I want to engage the conversation with public authorities and prospect new territories to deploy my mobility services offer.

I want to make sure that my market research provides convergent results with the societal position.
I want to talk in public events with the credit of citizens vision.
Want to join us? Send us a message